There are a lot of milestones to experience during a child's first few years of life. Heading to the dentist isn't one most parents think much about until the day arrives.
When Is the Right Time?
Most dental professionals agree that a child should make their first trip to the dentist around age 1, or around the time his or her first tooth erupts. This helps the dentist check things out early to avoid problems in the future, create a relationship with the young patient and help establish dental visits as part of a child's normal routine.
What Dentist Should I Choose?
You may love your dentist, but think about what his/her office may look like to a small child. Most adult dentists are not equipped to handle small children or their dental needs. Their equipment is too big, the atmosphere is too adult-like and the staff isn't properly trained for dealing with young ones.
Instead, choose a dental office that caters to the young and growing patient. Look for a kid-friendly office (one that is bright and cheery) that offers specialized services for children and who knows how to build a friendly rapport with young patients.
Preparing Your Child for the Big Day
Kids tend to feel anxious when they think their parents are anxious, so don't make a big deal about your child's first dental visit. Sure, talk about it with them, but don't get too excited and be careful about the words you use when describing the visit. Never say "it won't hurt." That will only set an expectation that it will.
Here are some tips for getting ready for the big day:
Take small children to the office with older siblings. That way the environment will be more familiar to them.
Practice opening wide in front of a mirror. Kids love to show off, so explain that the dentist wants to see their beautiful teeth.
Read a book once or twice that explains a dental visit with your child a few days (or weeks, or both!) before the visit.
Once You Arrive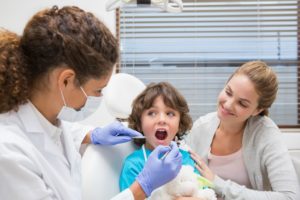 Be calm and nonchalant when driving to the office for your appointment. Be on time, but don't be too early to avoid having to wait too long.
Most children's dentists have waiting rooms filled with toys, books, video games, etc. Allow your child to explore. This will help alleviate any stress and make the appointment more fun.
At Playtime Dental, we understand that preparing yourself and your child for such a big milestone can seem stressful. By catering to young and growing patients, we know exactly how to make your first (and subsequent) visits as easy and enjoyable as possible. Be sure to talk with our staff about what you can do to make your child's first dental visit as smooth as possible.